What Is SABR?





SABR (Society for American Baseball Research) is a national organization of 7,000 plus members who are dedicated to the history of the national pastime. While the emphasis is on baseball research and the preservation of the games history, SABR is not just about numbers. It's about enjoying the sport, sharing stories and recollections, and being with like-minded individuals, men and women, who have a passion for baseball at every level of the game. Check us out and join the team.

MORE

Houston History





While Houston has had a presence in Major League Baseball for nearly a half century, the game's history in the Bayou City dates back to the Civil War. With teams as diversely and uniquely named as the Stonewalls, Babies, Buffs and Colt .45s, Houston's rich baseball legacy is of keen interest to members of the local SABR chapter.

MORE

Next Meeting



Monday, March 16,
7:00 p.m.
Spaghetti Western Italian Cafe
1608 Shepherd Drive, Houston, TX 77007


The Larry Dierker SABR Chapter continues to meet monthly at the Spaghetti Western Restaurant on the 3rd Monday of each month starting at 7:00 PM.
During the past year we have had a variety of guest speakers including MLB umpires Joe West and Andy Fletcher, author Ben Reiter of "Astroball" and Greg Lucas who wrote "Astro Legends", former players Shane Reynolds, Chris Sampson and Bob Aspromonte, media representatives Julia Morales, Chandler Rome and Karen Warren plus presentations by regular members including Tal Smith, Bill Brown, Larry Dierker, Bill McCurdy, and Chris Chestnut.
During the year we attended Astros and Skeeters games and plan to return to Constellation field when the Atlantic League and the Sugar Land Skeeters adopts electronic ball and strike umpiring. And a trivia contest each month. A special honor for the chapter was when the Houston Astros announced the formation of their own Hall of Fame and chose 4 of our SABR members to be on the 11 person selection committee. They are Larry Dierker, Bill Brown, Mike Vance and Bob Dorrill.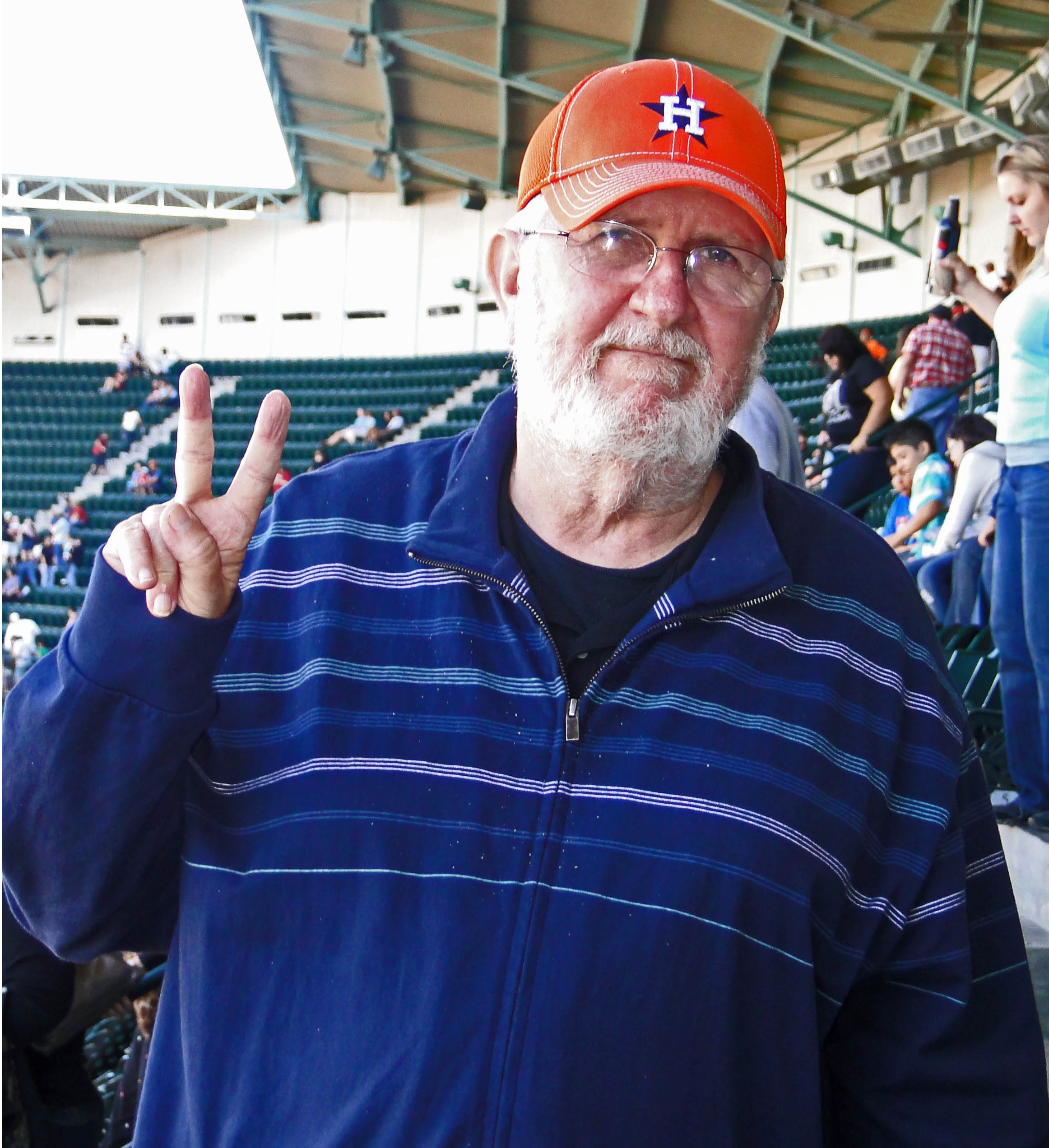 SABR member Bill McCurdy died on April 27, 2019. He joined SABR in 1988 and was very active for many years in the Larry Dierker Chapter helping to organize the 2014 SABR national convention in Houston and a major contributor to the historic "Houston Baseball The Early Years 1861-1961". In addition Bill wrote thousands of articles for his popular Pecan Park Eagle website and co-authored "Toy Canon" an autobiography with Jimmy Wynn and "The Kid from St. Louis" with a St. Louis Brown infielder Jerry Wittte.

Bill was president of the Texas Baseball Hall of Fame for many years. He was a lifelong fan of the Houston Buffalo's, the Colt 45's and the Houston Astros. He was also the General Manager of the vintage baseball team the Houston Babies.




Bill Brown: Great Man, Great Broadcaster

by Bill McCurdy, The Pecan Park Eagle

The retirement of Bill Brown from 30 Years as the Play-By-Play Telecaster for the Houston Astros on Thursday came as only a mild surprise to all of us who heard him defer from answering that query at a SABR Meeting only three days earlier, this past Monday night. "I won't be answering any question about my future palns tonight," Brown said, "but something will be coming out soon in that regard."

"Well, Bill, what are you going to do whenever you do actually retire?" Another SABR member asked.

"Go to SABR meetings," Bill answered with a smile.

How typical of Bill Brown to answer in that fashion. He's one of us fans too, you know - and not some rarified sports diva ego who holds himself...

Are the Changes in Baseball Long Term Benefits or Not?
By Greg Lucas
It is true that the essentials of baseball have changed less than in any major sport played in the United States over the last 100 years except for soccer, but that doesn't mean baseball has been unscathed by modern times.

Consider the use of instant replay on televised major league games. That was once an idea that would "never come" if one listened to long time baseball people. But it is now here and still a work in progress concerning how extensively it should be used...


Purchase any (or all) of these books by SABRHouston members.